In barely a decade, Operation ASHA has received numerous awards and has featured widely in the news from The Economist, The New York Times, ABC News, Harvard Global Health Review and BBC and academic journals like Lancet. Some of them are mentioned below.
AWARDS AND HONORS
Operation ASHA has won many awards. The important ones are listed below.
Ranked 78th among top 100 NGOs of the world in 2018 by The Global Journal. Thus, Operation ASHA is vying in impact, innovation and governance with the Global Fund (ranked 85th) and GAVI (ranked 74th), both of which have budgets which exceed Operation ASHA's budget by a thousand time or more.
Millennium Alliance award facilitated by FICCI with funding from USAID, UK Government (DFID), World Bank and Indian government for Detection and Treatment of TB; Winner
Financial Times/International Finance Corporation Transformational Business Award: Winner: ICT Category, Finalist: Transformational Finance Category.  
Schwab Foundation's Social Entrepreneur of the Year: Dr. Shelly Batra, co-founder of Operation ASHA, was conferred this distinction in

United Nations: Operation ASHA was cited as one of the 11 most successful examples of "Public Private Partnership" ahead of the special session of the UN General Assembly

Wall Street Journal Technology Innovation Award for Health, 2012: showcased in The Wall Street Journal's print edition UN General Assembly

University of Chicago: Public Service Award: conferred on Sandeep Ahuja, co- founder of Operation ASHA

mHealth Alliance and Rockefeller Foundation: Operation ASHA was selected as one of the top 30 mHealth Innovators in the world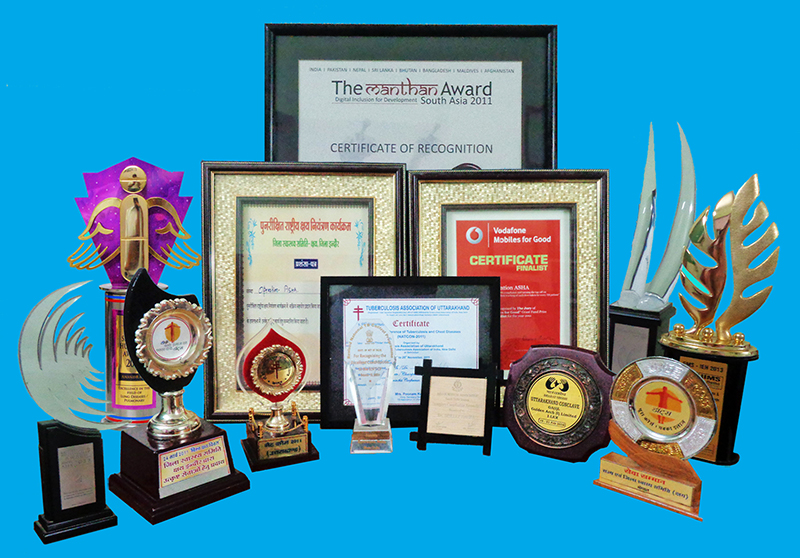 Government Awards for Exemplary Performance – City of Bhopal; City of Indore, Delhi Government.

Vodafone Mobile4Good: Winner, Finalist

Americares Spirit of Humanity Award: Winner: in Lung Diseases category; Finalist: Jury's Choice Category
Porter Prize, for Value Based Healthcare Delivery

Mint Strategy Award, for social development

Innovation and Entrepreneurship Award, organized by All India Institute of Medical Sciences, New Delhi and Oklahoma State University, USA

mHealth: Innovation in Mobile Health Technology Award
mBillionth,: Award for Innovation in Mobile Technology