Dinesh B Saxena, Dy CEO
Dinesh B Saxena has been working in operation ASHA for over a year.
He is a professional with over 35 years of leadership experience in sales, marketing, branding, logistics and. He has worked with ACC (Holcim – Lafarge Group of companies), Larsen & Toubro Limited & E.Merck.
Dinesh holds an MBA from Institute of Productivity and Management, Lucknow, India and a Diploma of Management Competency Program from IIM, Calcutta. He has attended many professional trainings, such as training in Sales & Marketing Excellence, McKinsey's Costumer Service Excellence Program and Trainer from Marketing Auditorium, St Gallen, Switzerland.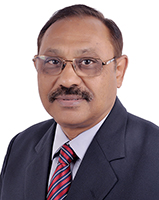 Saroj Kumar Chhatria, Country Director, Cambodia
Saroj is Country Director of Operation ASHA in Cambodia. He works closely with government, donors, and partner NGOs. Saroj joined the OpASHA team in 2018 as Senior Program Manager and managed implementation and Government relations in the state of Himachal Pradesh. In 2019, he was promoted as Country Director, Cambodia where he manages the over-all operations. Prior to joining operation ASHA, Saroj has worked with World Vision, where he implemented projects in low HDI districts of India by developing projects and programme proposals with focus on Food and Nutrition Security. Saroj holds a Masters in Social Welfare from University of Pune.