Payal comes to the Prahladbur DOTS center in the morning, accompanied by her mother. She is wearing a white and brown kurta, with bright red flip flops and blue-painted toenails. She appears to have recently lost a couple of her front teeth, but otherwise closely resembles her mother, who sits next to her in a bright blue and yellow kurta.
Her mother looks on approvingly as Payal answers questions about her name, age, and grade: she is six years old and in class one. She does not smile much, but readily answers the questions in a high-pitched voice. Her mother tells us that she is very proud of Payal. She has continued to go to school throughout her illness, even when she had a fever in February and then again in June. Her mother looks pleased as she says that Payal always speaks up in school, and is first in her class.
Payal began treatment in January 2012 for her CAT I TB. In December 2011, she had a fever, and a local doctor diagnosed her with pneumonia, so she was sent to Safdarjung Hospital. She had a persistent dry cough, so she was tested again. The doctors discovered that she had pleural fluid in her lungs, and this time she was diagnosed with TB. She was transferred to Badarpur, and then referred to the OpASHA center. Her mother tells us how Payal had no appetite at the beginning, but that now that she is on the medication, she feels hungry again. Payal also experienced nausea and itching, but OTC drugs that her provider gave her have helped reduce these.
Her mother explains that Payal's father passed away, so she cares for Payal alone. She took leave from her job to help her daughter with the TB treatment: when Payal returns from school at 1:30pm, the two of them go to the center for Payal's treatment. Her mother is proud of the fact that her daughter has not missed a dose recently. She says that she wants to tell other TB patients to make sure to take their treatment regularly so that they never miss a dose, and to eat a healthy, balanced diet. She tells us that she must return to work soon so that she does not lose her job. She does not know who will take Payal for her TB medications once her job restarts, but that perhaps she can bring Payal in the evenings, after work.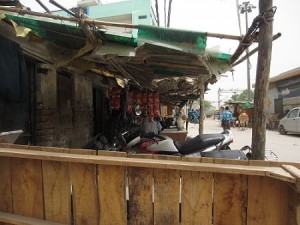 When asked about the stigma surrounding TB, Payal's mother says it is difficult. She has not told their neighbors, relatives, or Payal's friends about her disease – Payal still goes to play with the other kids. Her mother recounts her experience with the stigma even at the hospitals: she describes how the doctors told Payal to stand outside the room while they talked with her about her daughter's illness. She said that she is sad that even the educated doctors give in to the stigma.
Her face brightens, though, when she talks of the treatment Payal has received since. She is thankful to OpASHA because she says she cannot afford private treatment for her daughter. She says that the OpASHA center is better than the other hospitals because of the love and care Payal receives here. She describes how she has seen people with multi-drug resistant TB (MDR-TB) who are in the last stages of their lives, whose parents cannot even afford food because they must pay for the medications (MDR-TB medicines are not paid for by the government). She feels, however, that Rekha, the provider at the center, looks after them like her own family. She is very appreciative of her work and feels that Rekha has done more for Payal than what she could have done.